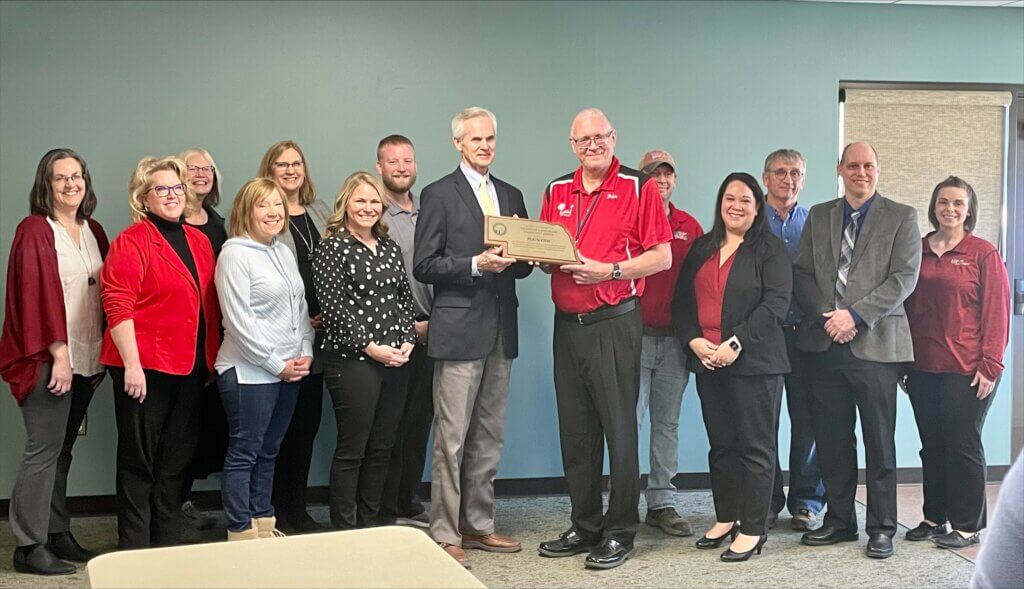 Lieutenant Governor Mike Foley visited the city of Plainview yesterday to present local officials and economic developers with the 2022 Governor's Showcase Community Award. The award is presented to one Nebraska community each year during the annual celebration of Community Development Week, in recognition of outstanding achievements in local and economic development over the previous five years.
"Plainview sets a shining example of what can be achieved when a community is able to band together, rally around a clear vision and execute on concrete goals for a brighter future," said Lt. Gov. Foley. "Our congratulations to Plainview's leadership, as well as each and every one of its citizens, for a job well done. The entire community should be proud of what they have built together as a team. We look forward to seeing what else Plainview has in store."
Governor Ricketts signed a proclamation earlier this month proclaiming April 11-15 as Community Development Week in the state of Nebraska. Coinciding with National Community Development Week, the event is about celebrating the people and projects that make quality of life improvement and economic growth possible across Nebraska.
Specifically, the weeklong event highlights the contribution of the federal Community Development Block Grant (CDBG) and HOME Investment Partnerships (HOME) programs toward making community betterment projects achievable.
Local leaders were on hand to accept the Governor's Showcase Award on behalf of the City of Plainview.
"We are thrilled to be recognized with this award," said Susan Norris, Director of Economic Development for the City of Plainview & Pierce County Economic Development. "It takes everyone working together toward a common goal and vision to achieve success. Watching Plainview transform and grow over the last five years due to strong collaborative partnerships between the City, its local boards and organizations, UNL Rural Prosperity, USDA, PCED and Five Rule Planning has been exciting. The smart growth strategy that was developed as a result of those partnerships helped us achieve our goals for growth, housing, economic development and placemaking faster than we thought possible."
Plainview is a great place to raise a family, our strength is in our citizens," said Plainview City Administrator Jeremy Tarr. "We have active board members and passionate volunteers that dedicate their time to Plainview. They are the backbone of our community. Working hand-in-hand with the City and the economic development director, they strive to make Plainview a better place for their families and future generations. Bettering a community is an all-in effort, and thanks to our great citizens, that is what pushed Plainview to improve. Our accomplishments have not come without hard work, risk and financial commitments. I believe as a community we will continue to improve and grow as we move forward with our goals."
Plainview's accomplishments over the past five years are evidence of strong determination by local leaders and residents alike to confront local challenges and pursue opportunities for growth head-on.
Faced with a slowing business and housing climate, City officials in 2017 created the position of Economic Development Director, also partnering with the University of Nebraska-Lincoln's Rural Prosperity Nebraska program to create a path for the future based on the concept of Entrepreneurial Community Activation. This meant getting the whole community engaged and involved — through surveys, discussions and outreach — in identifying needs and creating a path forward for Plainview that would achieve positive results.
After months of discussion, residents emerged with a blueprint for the future that centered around five key strategies:
1) Plainview would rally around a new vision for growth that embraced the past while pursuing the future; this would be embodied in a new economic development logo and local slogan — "Middle of Everywhere."
2) The City would execute a well-coordinated economic development plan with a focus on filling vacant storefronts, opening more businesses, revitalizing the downtown, attracting industry and creating jobs.
3) There would be a renewed focus on housing, with goals to include neighborhood redevelopment, low-to-moderate income housing development, developing open lots for future homes and building at least 12 new homes per year.
4) There would be a focus on maintaining and developing amenities to retain and attract residents, such as community parks, walking trails, a new community center and local churches.
5) The community would provide leadership and entrepreneurial training to develop, identify and nurture the local leaders of tomorrow.
Each of these plans has already begun to bear fruit. For example, before 2017 there were 11 vacant or abandoned buildings in Plainview's downtown business district. Since November of the same year, 13 downtown buildings have been sold to house new businesses, and there are currently zero vacancies. A full 18 new businesses, on top of two expansions, have resulted in the creation or retention of 60 jobs.
Plainview also successfully received a Community Development Block Grant in 2020 for downtown revitalization that will produce new storefronts and a more vibrant atmosphere within the City's bustling commercial district.
In 2019, Black Hills Energy chose Plainview as the location for its new 3,000 square foot regional service center. This involved the purchase of five acres of land; the facility currently houses four permanent office staff while being utilized by an average of 20 service technicians from across northeast Nebraska on a weekly basis.
On the housing front, six new homes have been constructed in recent years, with four townhomes currently under development, thanks in part to support from a federal workforce housing grant. The City is also working with developers to purchase land for four multi-unit rental duplexes and 16 single-family homes. Other housing developments include the remodeling of two apartment buildings that transitioned to new ownership in 2021.
When it comes to quality of life, Plainview continues to make big strides. For example, Chilvers Park has been refurbished with new playground equipment, picnic shelters, volleyball courts, a new communal fire pit and numerous other amenities. In November of last year, the City embarked on a capital campaign for a new community center, which will not only provide new indoor space for events, sports and fitness, but will enable new options for early childcare education.
In that vein, the city saw the opening of Hayly's Happy Hearts Daycare in 2021, and is now exploring the construction of an early childhood education center for 70 children ages six weeks to 12 years.
Other new developments include new dentistry, medical, mental health, pharmacy and nursing programs that have recently debuted in Plainview.
"On behalf of my Department and the entire State of Nebraska, we enthusiastically congratulate Plainview for earning this year's Governor's Showcase Community Award," said DED Director Anthony L. Goins. "We are thrilled to see a community demonstrate such a strong commitment to growth and such a solid determination to create a better quality of life for its citizens, today and in the future. This recognition is rightfully deserved, and the people of Plainview should be extremely proud."
To learn more about the CDBG, HOME and other State-administered programs, visit opportunity.nebraska.gov.