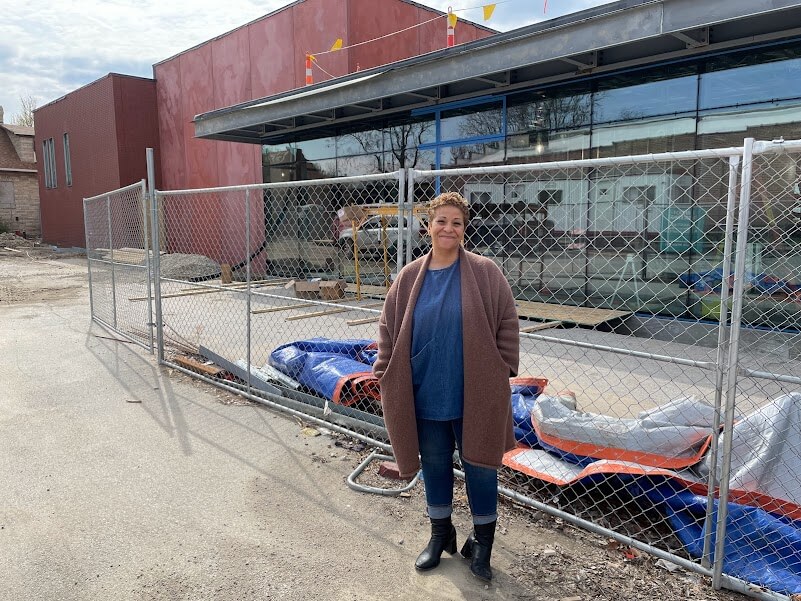 In the old theater space that sits along Lake Street in Omaha's Union for Contemporary Art building, passing trucks would rattle the windows and disrupt performances, as would bargoers confused about which door belonged to which business.
The 1,000-square-foot space was so small that audience members would have to walk onto the stage during a performance to get to the restroom.
"There was no backstage, there were no dressing rooms," said Brigitte McQueen, the arts center's founder and executive director. "It really was not a functional theater, but we made it work."
Now, with the help of $1.8 million in state Shovel-Ready Capital Recovery and Investment Act funds and millions more from other sources, The Union is building a fully equipped black-box theater space along 24th Street with seating capacity for 75 people.
"There's a rehearsal hall and a proper backstage area with dressing rooms and a scene shop. It's completely different," McQueen said. "It's going to be extremely beautiful."
The Union's theater arts program launched in 2016, five years after McQueen founded the organization in North Omaha. "Our performing arts program at The Union really focuses on plays that were written by contemporary Black playwrights," she said. "It has been a beautiful opportunity for actors, castmates, and crew members of color to be able to find consistent work in Omaha, which is tricky … It also has been a really pivotal piece in terms of connecting The Union to North Omaha."
The new theater will allow The Union to continue to do readings in addition to plays. Additionally, it will provide a venue for presenting music and dance that wasn't previously available in its main building, which has studio and gallery space for visual artists and ceramic, printing, fiber-art and digital-art studios available for use by the public.
The Union acquired the building that will house the theater in late 2019/early 2020, McQueen said, "and then the pandemic hit and I had to make a hard pivot into making sure that we were OK just as an organization." Fundraising on the $8.6 million project resumed at the end of 2021 and continued into 2022.
Construction of The Union's new theater is being aided by the shovel-ready project grant from the Nebraska Department of Economic Development (DED). The agency's shovel-ready grant program, funded by $100 million in federal American Rescue Plan Act money and $15 million from Nebraska's general fund, is intended to assist nonprofit groups whose capital projects were delayed because of the COVID-19 pandemic. DED announced The Union as an award recipient in June 2022.
"North Omaha has a unique and beautiful culture worthy of being seen, celebrated, and shared," said Trevon Brooks, chief strategy officer for DED. "The Union of Contemporary Art showcases this culture and strengthens its expression. I look forward to seeing The Union engage more Nebraskans through performances and visual artistry at its newly constructed theater."
Construction on the historic F.J. Carey Block building, which sits across from a small parking lot to the south of The Union's main building, began in earnest last year. The Block building, built around 1914, formerly housed a dry cleaner, a laundromat, auto body shops and, most recently, a day care. It was in such disrepair, McQueen said, that Lund-Ross Constructors, the contractors on the project, could salvage only the south and west exterior walls.
The 7,400-square-foot theater, designed by the Omaha-based architectural firm Alley Poyner Macchietto, will be named after the late Shirley Tyree, who McQueen noted was heavily involved in North Omaha and the theater community for decades. "She was just an incredible force of nature," McQueen said of Tyree, who also served for many years on the Omaha Public Schools board. Construction should be done by late summer, McQueen said, and theater programming should begin early next year.