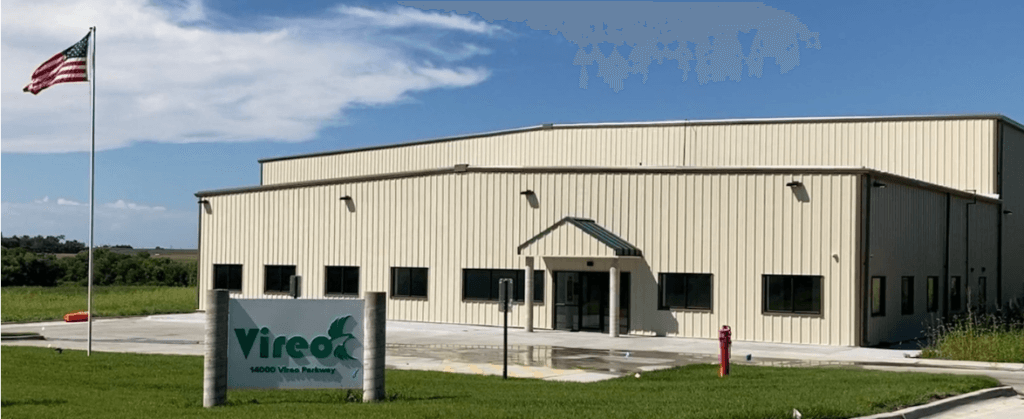 Last week, Vireo Resources and the community of Plattsmouth celebrated the grand opening of the first creatine production facility in the United States. The Nebraska Department of Economic Development (DED) and the City of Plattsmouth supported the project with $1 million of funding through the Community Development Block Grant (CDBG) Program.
Vireo makes health products such as holistic options for pain management, skin care, feminine care, overall wellness support, and sports nutrition supplements. The Tennessee-based company first came to the Good Life in 2008, attracted by Nebraska's business-friendly climate and outstanding academic institutions. Vireo has had great success partnering with Nebraska researchers, commercializing technologies developed with the University of Nebraska Medical Center (UNMC) in collaboration with UNeMed, the technology transfer office at UNMC.
Vireo's newly opened facility in Plattsmouth will produce Creatine HCI, which many believe is the most important supplement a person can take for optimal health, and that is also used by athletes to increase strength, endurance, and recovery of muscles. Currently, the majority of creatine products available in the U.S. come from China. Vireo's new $16.6 million production facility will soon give customers the option to purchase domestically produced creatine.
"Nebraska has the world-class workforce, affordable energy, and welcoming communities that companies are looking for as they bring manufacturing jobs back to America," said DED Director Anthony L. Goins. "Vireo's growth also showcases our state's strength in research and development. The company has had tremendous success turning Nebraska brainpower into muscle-building powder and other nutritional supplements. Congratulations to Vireo and the community of Plattsmouth on the grand opening of this new facility!"
The CDBG Economic Development Program, administered by DED, provides grants to local governments to support projects that expand the state's economic base and create quality jobs in Nebraska's communities. In Plattsmouth, the CDBG funds helped Vireo purchase custom-made equipment for its new 32,000 square foot manufacturing facility. The grant has enabled Vireo to create more than 40 full-time jobs.
Vireo's growth in Plattsmouth has also been aided by the Economic Opportunity Program (EOP) through the Nebraska Department of Transportation (NDOT). The EOP Program helps local communities attract jobs and private capital investment by providing grants to assist with first-mile/last-mile connections to Nebraska's statewide transportation system. NDOT approved $322,586 to help the City of Plattsmouth fund construction of a roadway to Vireo's industrial campus.
Vireo licensed a UNMC patent related to its production of Creatine HCl. It's one of many patents developed at the University of Nebraska that has allowed partnering companies to bring new products to market and create jobs in Nebraska. For five consecutive years, the University of Nebraska System has ranked among the top 100 academic institutions in the world for earning U.S. patents. In the most recent report, the University achieved its highest-ever ranking at #65.
More information about the Community Development Block Grant program is available on the program webpage.