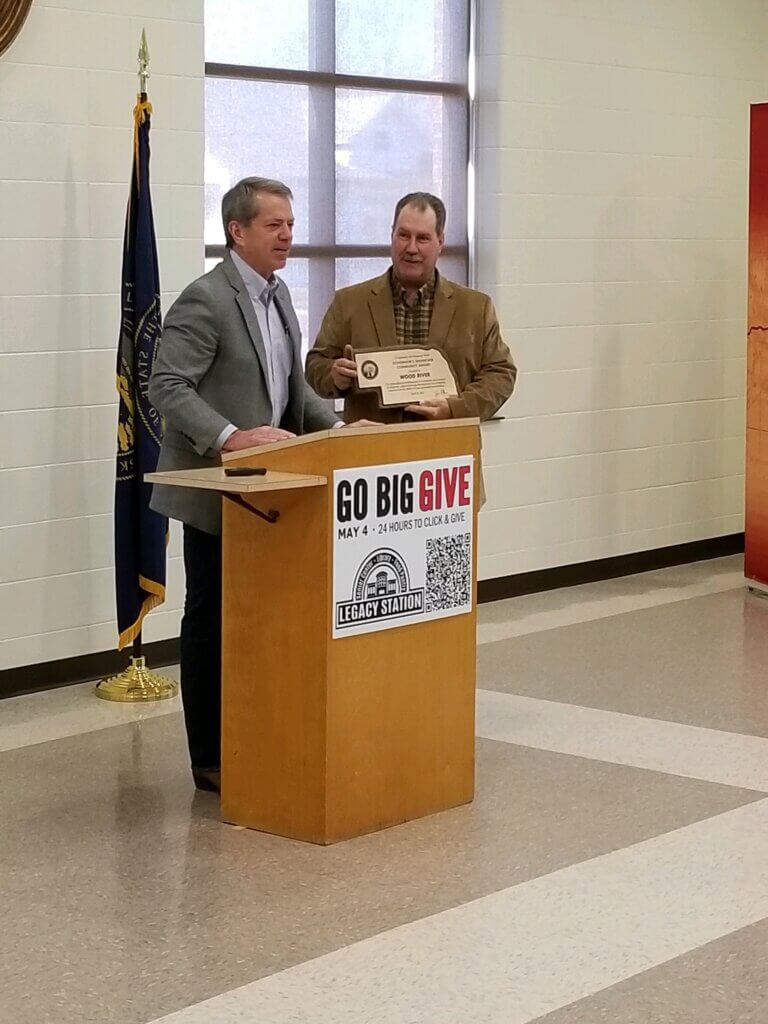 Today, Governor Jim Pillen visited Wood River to present local leaders with the Governor's 2023 Showcase Community Award. Each year, the award is bestowed on one Nebraska community that has distinguished itself through achievements to enhance the quality of life and encourage economic growth.
"Wood River exemplifies the qualities essential to a community's growth: foresight, initiative, togetherness, and hard work," said Gov. Pillen. "The town's teamwork has resulted in superb amenities like the aquatic center, a revitalized downtown, an upgraded senior center, and a wonderful new child care facility. Thank you to the Nebraska Department of Economic Development for helping Wood River access state and federal funds to support these improvements. And congratulations to Wood River on the well-deserved honor of being Nebraska's 2023 Showcase Community!"
At today's ceremony, the Governor also proclaimed April 10-15, 2023, as "Community Development Week" in Nebraska. The designation recognizes the valuable contribution of state and federal grant programs to the growth of communities across the state. In Nebraska, the Department of Economic Development (DED) administers a variety of programs to support community infrastructure improvements, public works projects, and the revitalization of business districts.
"Communities must invest in themselves to recruit businesses, retain graduates, and attract new residents," said Dan Curran, Interim Director of the Nebraska Department of Economic Development. "I applaud leaders in Wood River for displaying the vision and dedication to make their city stand out. It's inspiring to see how much Nebraskans care for their communities and are willing to work for their betterment. Congratulations to Wood River on all that you've accomplished! Our team at DED takes pride in seeing our state's communities flourish."
Over the past five years, the City of Wood River has won multiple competitive grants and invested the funds to strengthen the community. The town's Vision 2020 board worked diligently for multiple years to reimagine Wood River's downtown. Their efforts paid off in January 2019, when DED awarded the community nearly a half-million dollars through the federal Community Development Block Grant program. The city has used the funds for sidewalk, lighting, and landscaping updates, as well as for the improvement of business façades.
Another major accomplishment has been the creation of Wood River's first community childcare center. City leaders successfully applied for a public works grant to help transform a former nursing home into a state-of-the-art early education facility known as Stick Creek Kids Child Development Center. Additional grants are supporting work to co-locate a food bank, library, senior center, and storm shelter in the south wing of the same building. The project, Legacy Station, received a State award of $562,000 for capital construction last month.
Wood River has also displayed remarkable resilience following the 2019 floods that damaged over 350 homes in the community. The State awarded the city a grant of $500,000 to assist with home repairs. The community used an additional $485,000 of DED-managed federal funds to reconstruct a drainage system damaged by the floods.
"Wood River being presented with the 2023 Showcase Community Award is the crowning achievement of countless hours of individual personal time given by volunteers, along with the commitment of local leaders to improve our community," said Wood River Mayor Greg Cramer. "The achievements of this community would not be possible without the guidance of South Central Economic Development District and the Nebraska Department of Economic Development. Most importantly, these achievements were made possible by the generous monetary commitment of local foundations, businesses and citizens to recognize and ensure the future growth and prosperity of this community."
Wood River is one of 32 communities in Nebraska to gain certification through the State's Leadership Certified Community program. To achieve certification, communities must show that they are fully prepared to support business growth. This includes demonstrating collaboration between community leaders and organizations; creating a strategic plan supported by a community needs assessment; developing a business expansion and retention strategy; and preparing an implementation plan that displays a strong understanding of available state and local resources.
"Having a desire to grow isn't enough. Communities need a strategic plan for growth and leadership alignment around that plan," said Kelly Gewecke, DED's Business Development Consultant for Central Nebraska. "Wood River exemplifies this vision and teamwork. I encourage communities across Nebraska to follow Wood River's example in pursuing recognition as a Leadership Certified Community."
DED has a dedicated Community Development (CD) team to support Nebraska's communities as they prepare for growth. The CD team connects Nebraska's communities to grants in support of:
Infrastructure improvements, such as sewer and water system upgrades or street repairs
Housing studies and housing development
Construction of public works facilities like fire stations, daycare centers, senior centers, recreational centers, libraries, and parks
Business district revitalization
Disaster recovery
More information about DED's community development programs is available online at opportunity.nebraska.gov/programs/community.